Post by Ernesto de la Cruz on Dec 13, 2019 18:51:44 GMT -5
ERNESTO DE LA CRUZ would like to become part of the magic!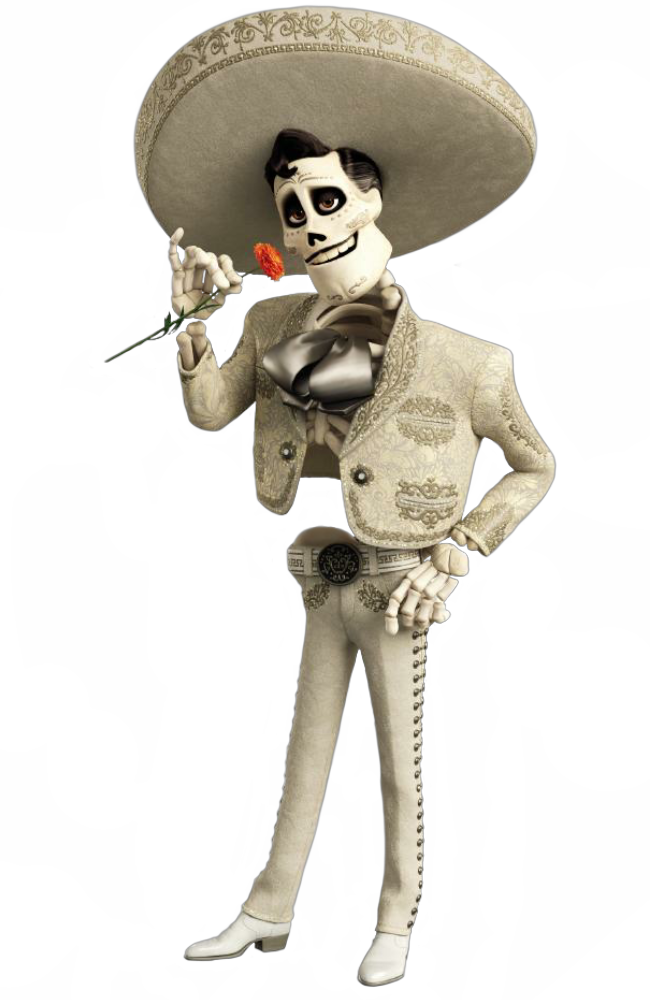 Who am I? Just a conscience!

Introduce yourself

Hey, howdy, hey! The name's Sage, and I wished upon a star from I live here. My other imaginary friends include Elsa and Co. Ernesto and I are so very eager to join the Worlds of Disney circle of life!
I'm wishing, I'm wishing

Character basics


Character name: Ernesto de la Cruz

Age: 46 at death

Species: formerly human, now skeleton

Birthplace: Santa Cecilia

Movie: Coco

Custom title: The Greatest Musician of All Time

Why'd you pick this character? I just want to succeed as a villain 😭😭 Sephy suggested I try de la Cruz
Who's the fairest of them all?
Character appearance
(try to get at least 2 or 3 sentences for each section)

Hair description: Ernesto's hair is mostly dark, with some grey near where his ears had been. he keeps it mostly slicked back, except for the front, where his bangs form a small curl over his forehead.

Facial description/mood/expressions: With a strong jawline, Ernesto is considered handsome by many, even in death. He keeps a subtle, silver Dia de los Muertos pattern on his skull, and often has a kind smile on his face. His brown eyes sit within black sockets, typical of any skeleton. A thin black mustache lines his… uh… lip.

Clothing style: He prefers a showy look, favoring white over other colors (it makes his bones stand out). He wears a sombrero wider than his shoulders, and a silver bow tied at his neck.

Body build: He's broad shouldered, and tall. Since being reduced to bone, he's slimmed down overall, but he still looks robust.

Any unique traits (optional): He's dead, so he's a skeleton.
Curiouser and curiouser about..

Original character analysis (In your own words and please be thorough)

Personality: Ernesto was a charming, ambitious man in life. And he's not much different as a skeleton. An extended stay in the Land of the Dead only improved his silver tongue, and deepened his ego. He can be paranoid, though, especially regarding his reputation. As an actor, he is skilled at hiding the more negative aspects of his personality.

History: Ernesto was born into a relatively poor family, but his parents instilled in him ambition and drive to achieve his goals, no matter the cost. Their deaths at a young age, with no children besides Ernesto, allowed the aspiring musician the freedom he needed to tour the country with his best friend, Hector.

At some point along their tour, Ernesto believed Hector was having doubts, and so he prepared a plan to ensure Hector wouldn't leave him. He poisoned Hector, and told everyone it was death by chorizo. Without Hector providing new songs, Ernesto changed track to being an actor, though he still performed concerts for his devoted fans.

One concert ended in disaster for de la Cruz, and he found himself in the Land of the Dead. His status as a celebrity in life propelled him to the top of society in the Land of the Dead, something he enjoyed immensely. He was able to maintain the charade of his success quite easily for decades, until a human boy arrived.

The facade de la Cruz had upheld for years shattered fairly quickly when Hector and his family revealed the truth of Hector writing all of the songs Ernesto had become famous on. Another ill-fated meeting with a bell, and de la Cruz once again found himself in a different world...


Ambitions: be famous at any cost,

Strengths & abilities: smart, quick-thinking

Flaws: loves attention a little too much,


Likes: fame, attention, fireworks, sunrises,

Dislikes: bells, the Riveras,

Fears: losing his reputation, being forgotten,

Anything to add?:
fourth time's the charm?

RP SAMPLE:

Well at this point, Rapunzel is long gone...